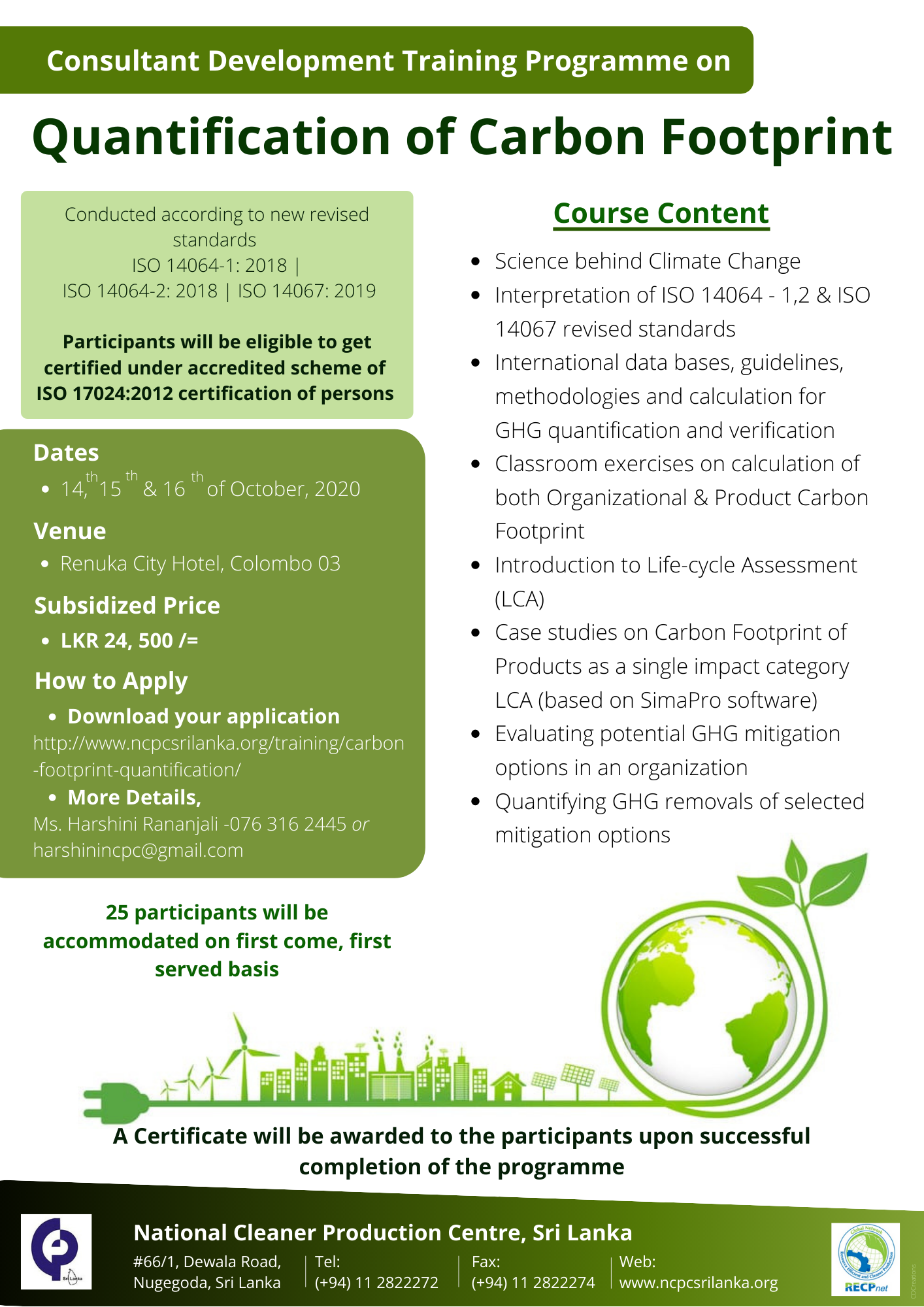 Course Details
Carbon footprint is the foremost demanding indicator that interprets the organizational stake of the climate change and global warming potential of your organization, product and supply chain. ISO 14064-1-2:2018 and ISO 14067: 2019 new revised standards are available now for guiding you on quantifying carbon footprint in a way that it can be certified with a third party.
Responding to the continuous demand from the industries for a systematic training program, National Cleaner Production Centre, Sri Lanka is calling for an annual training programme on Consultant development in carbon footprint quantificationbased on ISO 14064-1, 2: 2018 & ISO 14067: 2019 new revised standards. The course objective is developing the capacity within the industry to calculate carbon footprint annually and report.
The program will be held on three-days 14th , 15th and 16th September 2020 at Renuka City Hotel, Colombo 03. Certificate will be issued after evaluation of participants and continuous assessment during the course and participants who have successfully completed the course will be eligible to enter the personal certification scheme under ISO 17024.
The course fee will be LKR 24,500/= per person inclusive of handouts and all meals. The participants have to register for the programme making the full payment and enrolment will be on a first come first served basis.
How to Apply
If you find this training program useful to train the personnel in your organization kindly confirm your participation by sending the filled registration form to harshinincpc@gmail.com. Application form- Click here to download
For more information, kindly contact contact Ms. Harshini Rananjali; Tel- 0112822272/3, 0763162445 Email: harshinincpc@gmail.com
Online Module
The course has an e-learning component covering important aspects of Climate Science and Climate Change Mitigation Infrastructure related information. Access to the below link will be given upon successful registration.