Consultant Development in EMS Based on ISO 14001:2015 Standard
"The international standard of ISO 14001:2015 EMS is a widely recognized environmental management tool applied in diverse set of organizations all around the globe. As an individual engaged in the context of environmental management, acquiring the necessary knowledge and skills in such tools are utmost important. Therefore, I chose the consultant development training programme on ISO 14001:2015 Environmental Management System (EMS) offered by the National Cleaner Production Center of Sri Lanka. Being a recognized and reputed organization in Sri Lanka, the NCPC provides participants with an excellent platform to develop their theoretical and practical know-how in setting up EMS in different organizations. The program has immensely helped me to enhance my capacity in Environmental Management which will help to intensify my contribution towards a more sustainable future."
Chandimal Ranathunga, Lecturer (Probationary) – EcoBusiness Management Special Degree Program Department of Tourism Management Faculty of Management Studies
Identifying the need of the hour
Environmental management becomes necessary because of the impact created by human beings due to different activities. Today most organizations also consider environmental management a business necessity because it helps businesses be good stewards of their resources, which ultimately results in lower operating costs and minimize the pollution.
ISO 14001 is the most practiced tool in the world that sets out the criteria for an environmental management system (EMS) and can be certified. It maps out a framework that a company or organization can follow to set up an effective EMS. ISO 14001 is designed for any type of organization, regardless of its activity or sector, it can provide assurance to company management and employees as well as external stakeholders that environmental impact is being measured and improved. The latest standard ISO 14001:2015 responds to the newest trends, such as an increasing recognition by companies of the need to factor in both external and internal elements that influence their impact, including climate volatility.
Course details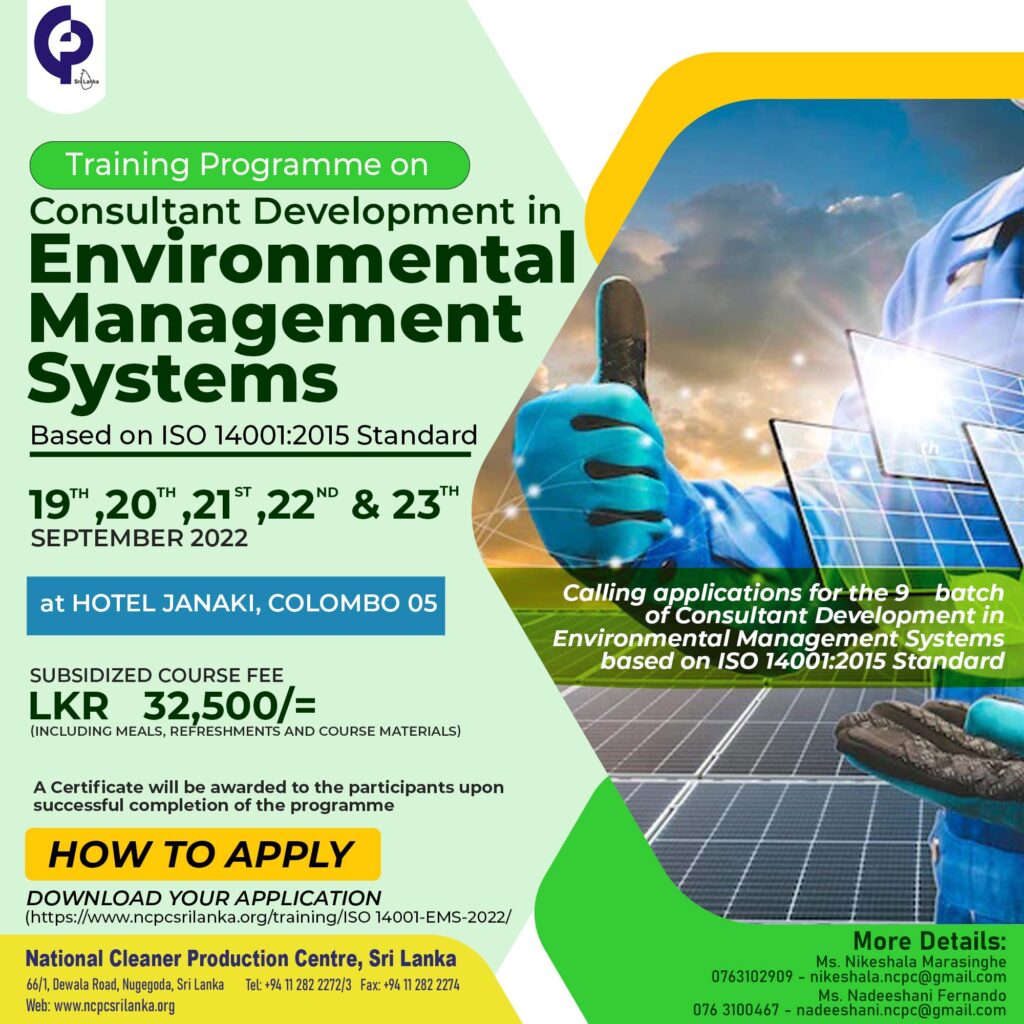 This five-day (40 hours) programme consists of one-day online session (via Zoom), three-days classroom sessions and one-day onsite Industry Assessment. The classroom sessions will be held on 20th, 22nd and 23rd September 2022 at Hotel Janaki, Colombo 05 from 8.30 am to 5.00 pm and the onsite industry assessment will be held on 21st September 2022. Hands-on experience in handling the sample templated and worksheets given will be included in the programme. And also this programme will be conducted in a hybrid model (you can either join live from anywhere you are or physically attend the classroom and get the experience)
The participants will be evaluated with continuous assessment during the course and certificate will be issued upon successful completion of the course. Those participants who have successfully completed the course will be eligible to get certified as EMS Consultant under the Scheme of ISO 17024:2012 Certification of Persons.
Total cost fee will be LKR 32,500/= per person inclusive of course materials, meals, refreshments during the classroom sessions and travel & logistics for the onsite Industry Assessment.
The seat will be reserved for the participants upon payment of the course fee. However, participants can get enrolled to the course by paying a registration fee of Rs. 5000.00. Balance payment of Rs. 27,500.00 can be paid in the first day of the programme at the participant registration desk.
Total number of will be 25 and enrolment will be based on first come first served basis. The programme will be held as physical session meeting all the guidelines of the country to prevent Covid 19.
"This was a very interactive training program compared to those available from other providers which feel more like lectures. It really helps me to fine-tuned my skills. The material was very relevant and the lecturers was flexible in their teaching, tailoring the programme to the relevant industries people worked in. After attending the course, I am starting to apply the skills that I learnt from the course which will be a great contributor to the end result of the projects I work on. I already have, and will, recommend this course to others."
Sithumini Anuradha, Manager – Sustainability: LOLC Finance PLC
How to reserve your seat
Participants can apply by sending the application form attached. Click here to download
For more information kindly contact Ms. Nikeshala Marasinghe, RECP Technologist; Tel- 0112822272/3, 0763162909 Email: nikeshala@ncpcsrilanka.org or Ms. Nadeeshani Fernando, Programme Officer- 076310046 Email: nadeeshani.ncpc@gmail.com
A downloadable description of the programme is attached below. More details- Click here to download