Capacity Building Training on Conducting Life Cycle Assessments Using LCA Software Tools
Based on According to ISO 14040:2006 & 14044:2006 standards, using SimaPro and Umberto software with ecoinvent database
Background
Life cycle thinking seeks to develop a fuller and more complete understanding of the consumption of energy, water use and materials, and the resulting release of emissions associated with the extraction, processing, manufacturing, use and end of life management of materials and products. A Life Cycle Assessment (LCA) is a tool that used to understand how to achieve environmental sustainability throughout the entire life cycle of a product or service. LCA is a process that is progressively becoming more widely adopted in the context of national and international environmental regulations.
LCA is used to assess diverse environmental impacts associated with a product, from the extraction of raw materials to the manufacturing, use, and the final disposal of the product.
This technique can help businesses to introduce sustainability by identifying environmentally friendly products and services. By performing LCAs, it is possible to make decisions on improvements which benefit both the environment and the business. Through shifting to environmentally friendly alternatives, the company status and image can be improved while also obtaining increased business profits due to reduced wastages, thus minimizing the need to treat waste and decreasing the need for large amounts of raw material due to increased resource efficiency.
Many parts of the world are now increasingly following LCA due to the sense of responsibility towards building a sustainable world. All Life Cycle Assessments are carried out according to the international standards, ISO 14040:2006 (Environmental management –Life cycle assessment – principles and frame work) and ISO 14044:2006 (Environmental management –Life cycle assessment –Requirements and guidelines) With technical advancements, LCAs are now carried out using software and databases making the process much easier. There are more than 20 such software tools in the world, but most popular tools are SimaPro (from Netherlands), Umberto LCA+ (from Germany), GaBi (from Germany) and OpenLCA (from Germany, a freely available software).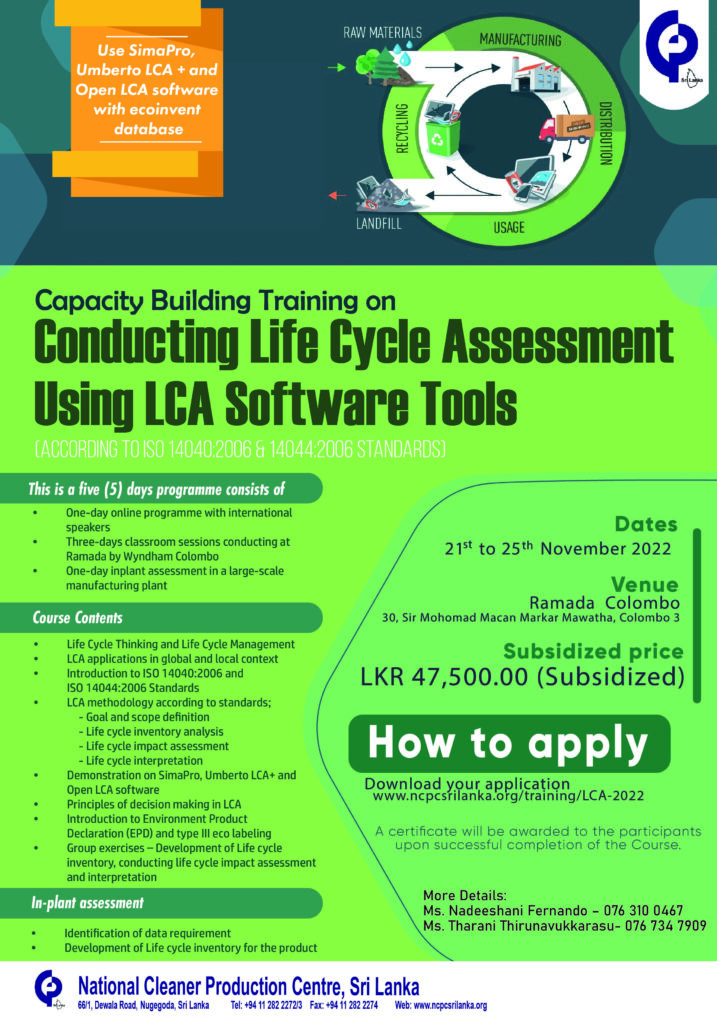 Objective
To develop the capacity on the life cycle assessment for academic and professional individuals.
Course Content
This is a five days programme with one-day online session with International Speakers, three-day classroom sessions and one-day In-plant Assessment.
1. Life Cycle Thinking and Life Cycle Management
2. LCA applications in global and local context
3. CIntroduction to ISO 14040:2006 and ISO 14044:2006 Standards
4. LCA methodology according to standards; (a) Goal and scope definition (b) Life cycle inventory analysis (c) Life cycle impact assessment (d) Life cycle interpretation
5. Demonstration on SimaPro, Umberto LCA+ and Open LCA software
6. Principles of decision making in LCA
7. Introduction to Environment Product Declaration (EPD) and type III eco labeling
8. Group exercises – Development of Life cycle inventory, conducting life cycle impact assessment and interpretation
Certificate
A certificate will be issued after evaluation of participants and continuous assessment during the course.
Dates, Venue and Fees
The online sessions will be held on 21st November 2022. Classroom sessions will be held in three days 22nd, 24th and 25th November 2022 from 9.00 am to 5.00 pm at Ramada by Wyndham Colombo. The In-plant Assessment will be held on 23rd November 2022 in a large-scale manufacturing plant.
The course fee will be LKR 47,500/= per person inclusive of handouts and all meals. The participants have to register for the programme making the full payment and enrolment will be first come first served basis.
How to enroll?
If you find this training programme is useful to train the personnel in your organization, kindly confirm your participation by filling the registration form (Click here to Register).
Register Now
For more information contact;
• Ms. Tharani Thirunavukkarsu, RECP Technologist, Mob – 076 734 7909, Email: Tharani.ncpc@gmail.com
• Ms. Nadeeshani Fernando, Programme Officer, Mob – 0763100467, Email: nadeeshani.ncpc@gmail.com