Consultant Development Training Programme on
Resource Efficiency & Cleaner Production – 2022
According to UNIDO Methodology
Background
Resource Efficiency and Cleaner Production (RECP) refers to a systematic and integrated approach to managing energy, water, environmental and financial resources of processes, products and services of organizations thereby eliminating or minimizing waste and emissions to the environment in a sustainable and cost-effective manner. It highlights the options that can be adopted efficiently avoiding end-of-pipe treatments for material, chemical and water.
RECP practices help industries to achieve profits while reducing the impact to the environment. RECP tool helps to identify gaps in the processes and generate options for the mindful use of resources and minimize waste. In addition, it encourages innovations that can convert waste into profits. Since this tool is well-used for a long period of time, industries have understood the value of practicing the tool to achieve profits while highlighting their commitment to sustainability. A trained RECP technologist can identify more options that can boost sustainability inside the company.
Role of NCPC, Sri Lanka in RECP activities in last decades
Our centre is originally established to promote cleaner production concept, almost two decades ago in 2002 by UNIDO under the Ministry of Industries. It is established as another cleaner production centre of the cluster of centres all around the globe. For almost 20 years, NCPC Sri Lanka was in the operation to promote and apply RECP into the industries and has obtained much more experience. All the RECP applications were turned into success stories due to the commitment of the expert staff of NCPC, Sri Lanka, their knowledge, effective use of the tool, and capability in implementation.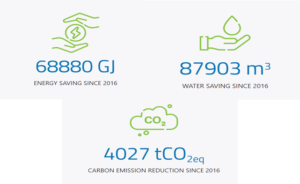 During the whole period of 20 years, NCPC Sri Lanka was competent for the successful completion of over 400 RECP assessments. When considering the resource-saving data since 2017, NCPC Sri Lanka was the proud contributor and consultation partner in saving more than 68680 GJ of energy, 87903 m3 of water and 4027 tCO2eq carbon emission reduction. Moreover NCPC, Sri Lanka has extended its consultation on RECP for Pakistan and Bangladesh organizations and has gained much more reputation and experience.
Considering all the evidences, it is important for all individuals who are interested in RECP to gain knowledge and practical experiences from the one and only matured sector expertise none other than NCPC, Sri Lanka.
Objectives
To develop capacity in individuals on the practical application of Resource Efficiency and Cleaner Production (RECP) with the aid of experience of Sri Lankan and international experts and live examples.
To develop the capacity in individuals to conduct comprehensive Cleaner Production Assessments.
Enterprises can develop the organizational capacity by training their personnel to use CP as a tool to conduct comprehensive CP assessments in respective organizations in a cost-effective manner.
Programme
This course is designed to achieve the successful dissemination of knowledge. This is a five days programme with,
Three-days classroom sessions- 09th,10th and 13th May 2022
One-day online session-11th May 2022
One-day Industrial Assessment-12th May 2022
Classroom sessions will be held from 8.30 am to 4.30 pm at
Hotel Janaki, Colombo 05
.
Course Content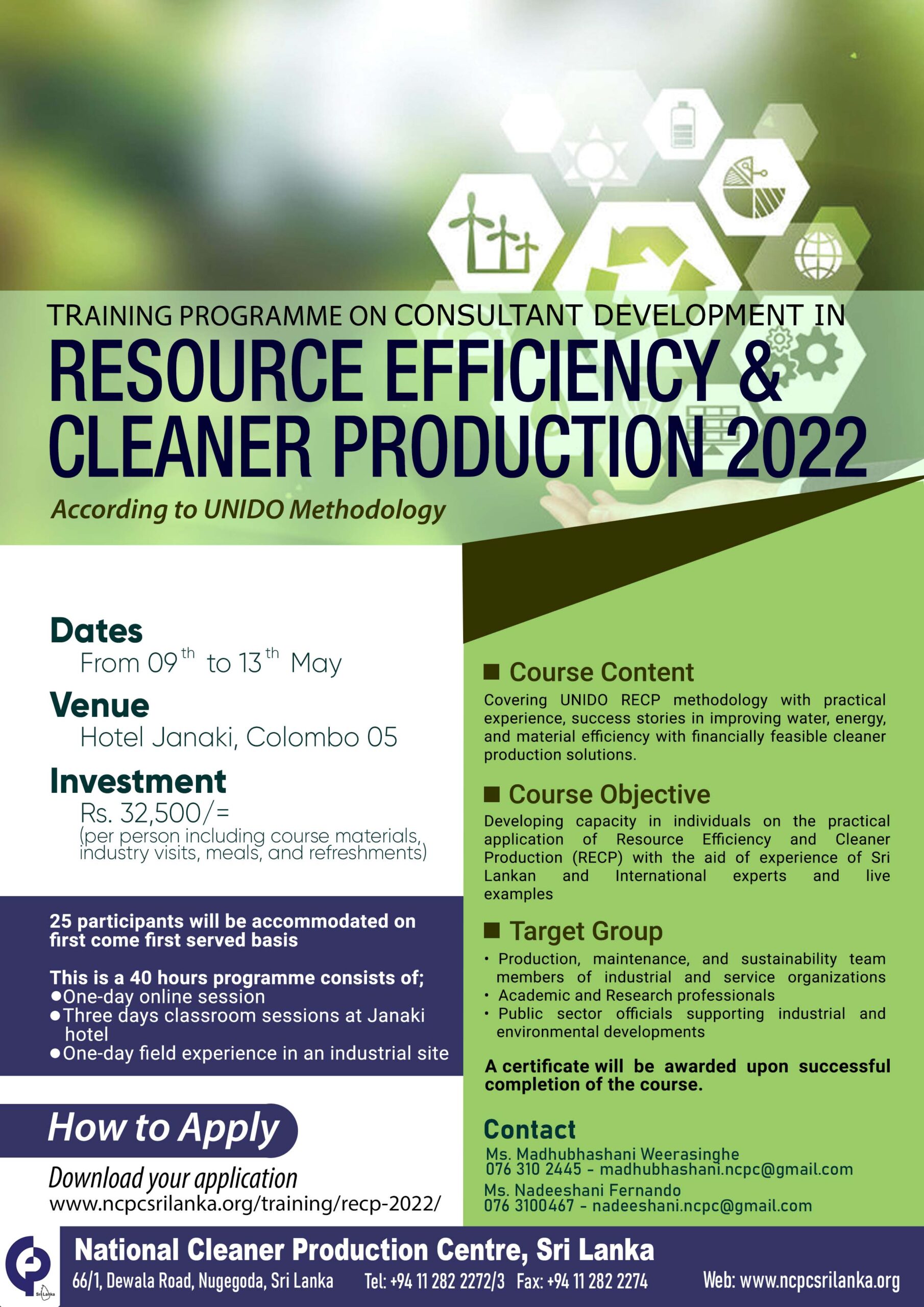 Introduction to the concept of Cleaner Production and UNIDO Cleaner Production Assessment Methodology.
Step 01: Getting started a Cleaner Production Assessment
Step 02: Analyzing Process Steps (a) Qualitative Analysis (b) Quantification of resource flows – Data Collection, in-situ measurements, material balance (c) Evaluation of total loss of economic wastes (d) Assessing Cleaner Production Energy Efficiency Assessment
Step 03: Generation of CP options (a) Waste causes & CP Techniques (b) Brainstorming as a technique for Cause analysis and CP Options generation
Step 04: Selecting CP Options Screening and Feasibility analysis of CP options
Step 05, 06: Implementation and Sustaining CP Industry Visit Report preparation and Presentation Practical experience in RECP implementation – material, water, and energy management (with more than 20 examples for each)
Practical Component The practical component of the programme consists of one-day site visit to the given industry.
Performance Evaluation Performance of the participants will be evaluated continuously with attendance and assignments.
Certificate A certificate will be awarded upon successful completion of the course.
Participants
Production, maintenance, and sustainability team members of industrial and service organizations
Academic and Research professionals
Public sector officials supporting industrial and environmental developments
How to enroll?
Total fee
The fee for the participants will be LKR 32,500 per person inclusive of course materials, industry visits, meals, refreshments and certificate.
Application Form
Duly completed applications forms should be emailed to madhubhashani.ncpc@gmail.com or nadeeshani.ncpc@gmail.com. Application form- Click here to download
For more information kindly contact Ms. Madhubhashani Weerasinghe +94 76316 2445 (madhubhashani.ncpc@gmail.com) or Ms. Nadeeshani Fernando, +94 76310046