About the Circular Economy Conference…
National Cleaner Production Centre (NCPC), Sri Lanka takes great pride in announcing its "2nd International Conference on Resource Efficiency and Circular Economy" which is scheduled to be held on 19th January 2022 at Waters Edge, Battaramulla from 8.30 am to 4.00 pm."
'Resource Efficiency' and 'Circular Economy' will be the two thematic areas of focus. The Circular Economy Conference 2022 will also stage three parallel sessions, on "Energy and Carbon Management", "LCA and LCA based tools (Eco-labeling, Eco-design, and Eco-innovation)" and, "Resource Circulation and Cleaner Production." The conference will be graced by eminent international and local experts. The keynote address will be delivered by Dr. Rene Van Berkel, Representative, of the Regional Office of UNIDO in India.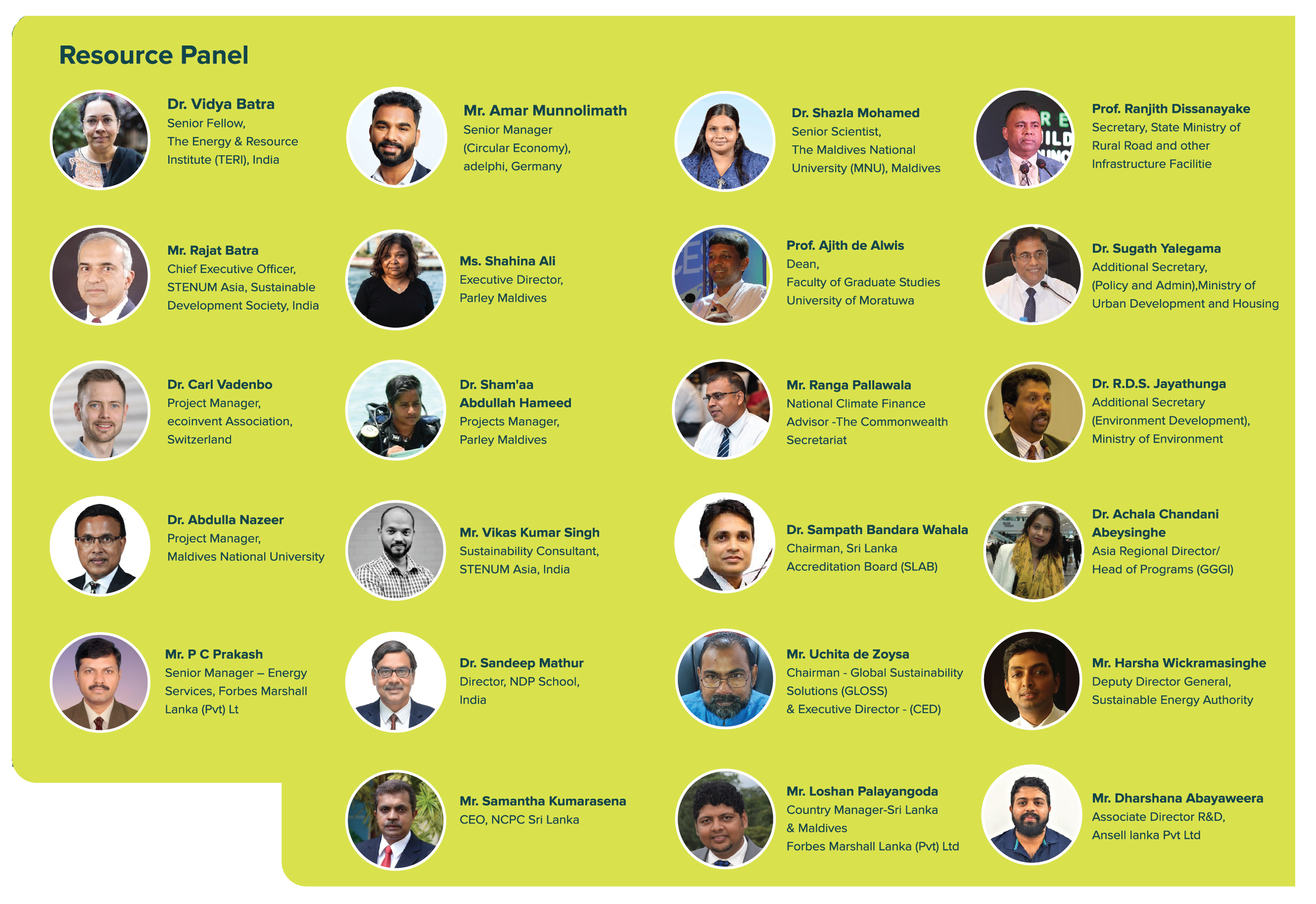 Two Thematic Sessions
Thematic Session 1:Resource efficiency
The degree of resource consumption has increased globally due to the inefficient management of resources, and the excessive use of resources such as materials, energy, and water. The major demand occurs due to rapid industrialization, population growth, and changes in consumption patterns. Resource Efficiency and Cleaner Production have a positive influence on the environment, increasing production efficiency, and lowering costs. In light of the current high cost of energy and other resources; Resource Efficiency and Cleaner Production helps to protect the environment by reducing pollution, and waste while providing substantial benefits to enterprises to become more competitive.
NCPC Sri Lanka is the leading organization promoting Resource Efficiency, and is also the foremost Cleaner Production solutions provider in the country. NCPC Sri Lanka has provided such services to thousands of industrial, and business enterprises in Sri Lanka. Projects have been implemented for highly reputed agencies such as the United Nations Industrial Development Organization (UNIDO), the United Nations Environment Programme (UNEP), and the European Commission (EU Switch Asia), etc. Since 2017, NCPC Sri Lanka, has successfully saved 72,117 GJ of energy, 129,996 m3 of water, and 2,629,688 kg of material, and has also reduced Greenhouse Gas Emissions by 4,631 tonCO2. Additionally, 1488 personnel have been trained.
The 2nd International Conference on Resource Efficiency and Circular Economy will disseminate international knowledge through practical case studies presented by international and local experts, thereby raising awareness regarding resource efficiency as a means of achieving sustainable development, while novel concepts and approaches to be practiced will also be highlighted.
Thematic Session 2:Circular economy
The concept of circular economy works by prolonging the product lifespan, through better design and service, as well as relocating the waste from the end of the supply chain to the beginning, enabling the use of resources more efficiently. Through end-of-life recovery, reuse, and recycling, the circular economy aims to improve resource efficiency (mostly in the areas of water, energy, and material usage) along the value chain, and the resource cycle. Furthermore, the circular economy adopts a systemic approach to achieve dematerialization and resource sharing.
NCPC Sri Lanka is the leading organization in Sri Lanka advocating and promoting tools and techniques applicable to the circular economy, during the past two decades. It has played a pioneer role in bringing international knowledge to the country, and creating an impact at the ground level. NCPC has again taken the leadership to disseminate essential knowledge to the nation, and to propagate the Circular Economy initiatives, mainly working with industries and businesses. The Circular Economy conference will focus on further expansion of the circular economy concept in Sri Lanka to achieve a greener future.
Three Parallel Sessions
Parallel Session 1: Energy and Carbon Management
With energy requirements looming large, it has become necessary to increase the energy generation rate to meet the demand. Many turn towards fossil fuel sources to meet the energy requirements. The usage of carbon-based fuel results in emissions which act as the driving force towards climate change. It is vital to ensure that emissions of fossil fuels are tackled in a sustainable way, so that the impact on the environment is reduced. Efficient usage of energy is important as it helps to reduce the energy demand. It also indirectly helps to reduce the usage of fossil fuels to generate energy. Carbon management does not end here since as many industries have operations that generate Greenhouse Gas Emissions (GHG). It becomes necessary to understand which operations produce GHGs to minimize emissions in an ongoing and financially sustainable way. NCPC Sri Lanka as an Energy Saving Company (ESCO), and consultant for the ISO 50001:2018 Energy Management System actively undertakes projects to assist industries to increase their energy efficiency thereby enabling industries to efficiently use energy, and also to reap monetary benefits. Moreover, through training programmes, individuals across the country have been engaged. Therefore, the conference will deliver unique approaches that could be made, and prospective opportunities, that could be explored.
Parallel Session 2: Life Cycle Assessment, Eco-labeling, Eco-design, and Eco-innovation
Life Cycle Assessment (LCA)
LCA, and LCA-based tools have been highlighted as approaches for resource efficiency, and circular economy implementation. Life Cycle Assessments (LCA) are an up-to-date tool to quantify environmental consequences caused by products or services over their entire life cycle. NCPC Sri Lanka, has conducted LCAs, which have been used by industry professionals in decision-making for product innovation and re-design, resulting in the development of greener products with an improved overall environmental profile. The Circular Economy conference will demonstrate the ability of organizations to recognize the need for alternatives in order to reduce, or eliminate the negative effects on the environment, while identifying environmental hotspots in products/services, to reduce environmental risks, improve the company image, and achieve economic benefits via alternative solutions, by improving resource efficiency.
Eco-labelling
An eco-label recognizes products or services which have been proved to be environmentally favourable, thereby assisting in product promotion, resulting in economic benefits. Eco-labelling is a method of environmental performance certification and labelling, that is practiced around the world. Recognizing the shortcomings of the country's environmental labeling programs, NCPC, Sri Lanka collaborated with the United Nations Environment Programme's One Planet Network Project on Consumer Information for Sustainable Consumption and Production in order to implement an Eco Labelling Scheme on a larger scale. As an outcome, NCPC Sri Lanka has pioneered the establishment of a globally recognised Eco-Label Certification Scheme. NCPC Sri Lanka has also obtained Associate Membership of the Global Eco-labelling Network (GEN) at its Annual General Meeting in 2020, as the first-ever GEN member in Sri Lanka. The conference will focus on eco-labelling as a useful tool to inform customers regarding the effects on the human health, and environmental implications of various products, as well as the options available to them, together with the possible industrial benefits that can be achieved.
Eco-design
By balancing ecological and economic requirements, environmental issues are integrated into the product creation process. Eco-design analyzes the environmental aspects at all stages of the product development process, with the ultimate goal of creating goods with the least amount of environmental effects that is feasible throughout the entire product life cycle. NCPC Sri Lanka has successfully conducted a capacity building programme in order to develop awareness, knowledge, and skills among industry giants regarding this crucial concept. Building on the previous experience, the upcoming conference will deliver a unique experience to the participants, and they will be able to acquire a sound knowledge regarding this novel concept.
Eco-innovation
Transforming the linear economy of the present world into a circular economy is identified as a potential approach in the prevention of pollution, climate change, and various other environmental issues, through environmental strategies, to processes, products, and services, which enhance efficiency, while reducing risks to humans, and the environment. Resource Circulation and Cleaner production widely contributes to the pathway to achieve Sustainable Development Goals in the country.
The Circular Economy conference will demonstrate the circularity approach towards a better future by focusing on international experiences on resource circulation. Furthermore, the Sri Lankan context on resource circulation, and the future potential will be discussed, along with ways and means for the prevention of environmental issues such as marine pollution through resource circulation, and cleaner production.
Why you should join…?
The Circular Economy conference aims to promote Resource Efficiency and Circular Economy through the dissemination of international knowledge, thereby creating a collaborative platform towards sustainability in Sri Lanka. The objective of the conference is to congregate eminent international and national experts, into a global platform, to share their experiences and case studies from across the world, as well as to provide numerous interactive and collaborative opportunities to the industry giants, and all other interested parties. At this renowned conference, participants could learn about the latest and forthcoming trends, as well as potential challenges in the areas of Resource Efficiency and Circular Economy. The conference will be a great opportunity to engage in panel discussions, to explore new prospects in the Sustainable Management of Resources. NCPC Sri Lanka cordially invites you to join and benefit from this impactful event.
How to Register?
Interested personnel are cordially invited to complete the application form by clicking here. The registration fee is LKR 9,500.00. For more information kindly contact Ms Shammi – 076 310 3011 or Ms Nadeeshani – 076 310 0467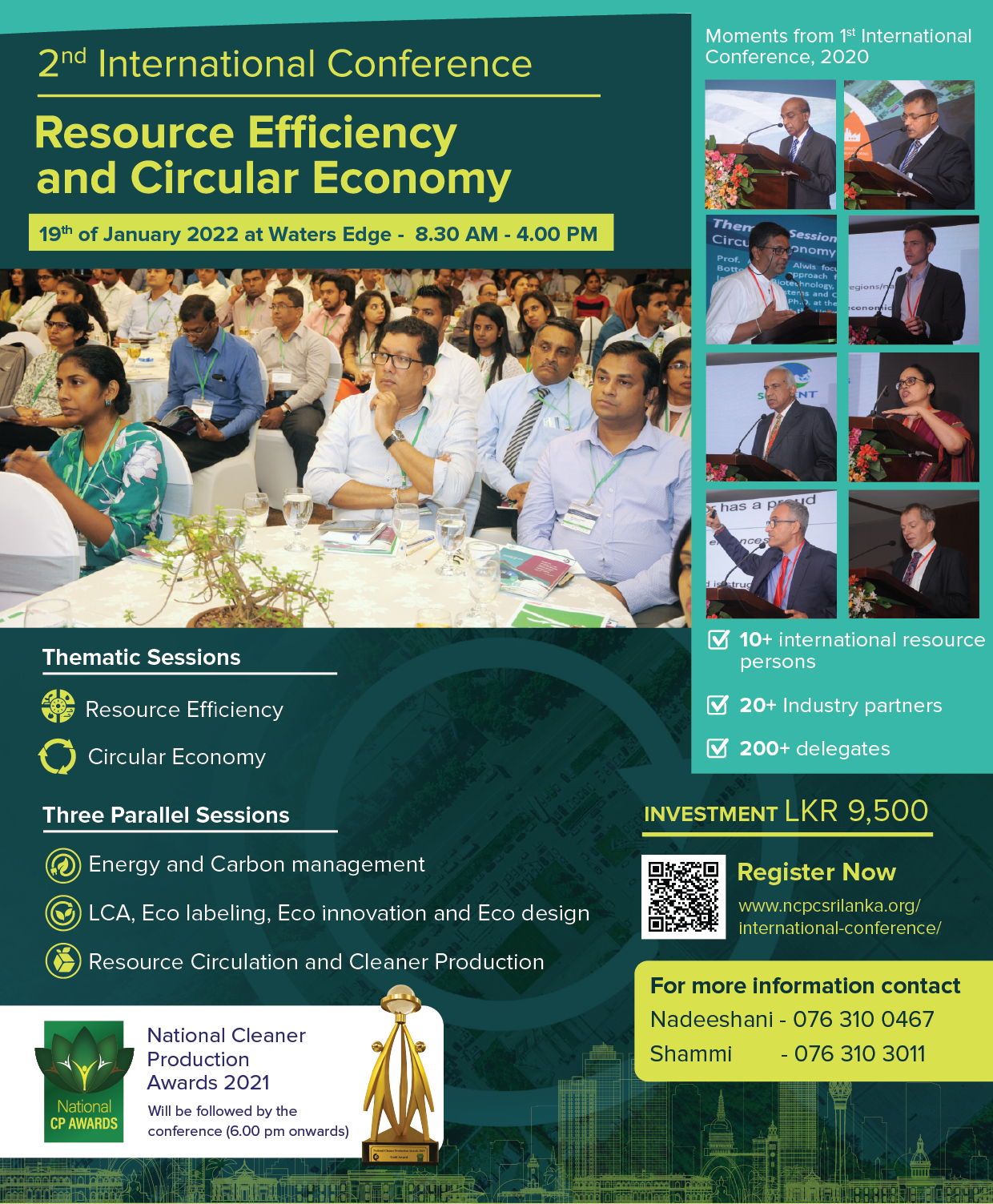 Moments from the 1st international conference