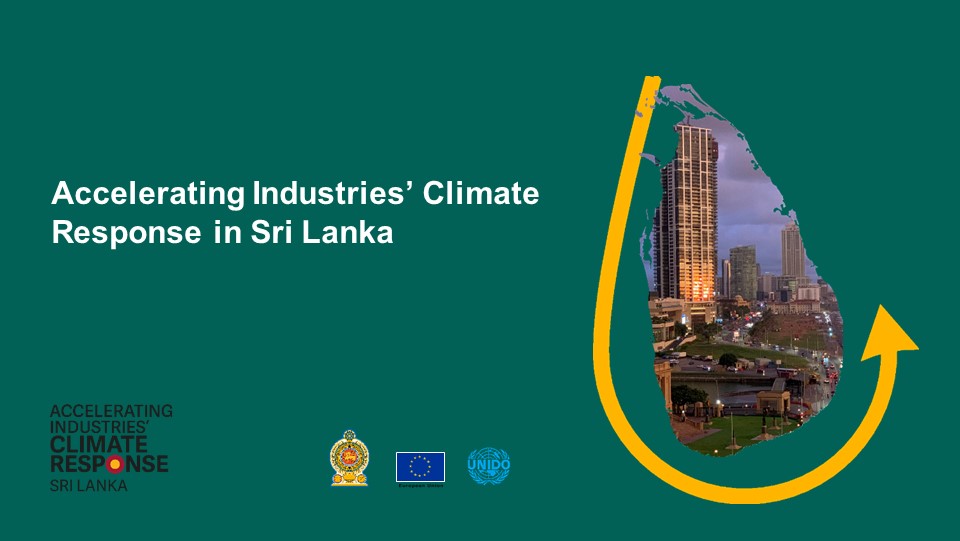 Project Details
Current status of the project:

Ongoing

Project funded by:

European Union

Project started on:

2022

Project completion:

2025
Accelerating Industries' Climate Response in Sri Lanka is a 5-year project funded by the European Union under GCCA+ initiative. The main government counterparts are the Ministry of Industry, Ministry of Environment, and the Ministry of Power and Energy in Sri Lanka.
The Project's overall objective is to mitigate climate change by assisting Sri Lanka in implementing its Nationally Determined Contributions (NDC) for the industrial sector. The specific Project objective is to scale-up Sri Lanka's industrial sector's response to climate change. The project aims to reduce greenhouse gas emissions by accelerating the adoption of cutting-edge technologies, well-established best practices, and strategies for reducing carbon intensity in terms of energy and resource efficiency. Additionally, this initiative is intended to support long-term development advantages including empowering project recipients and enhancing the ability of government colleagues.
Project Activities
The 05 year Project consists of five components as follows;
A Measuring, Reporting, and Verification (MRV) system for the industry sector is developed and implemented and baseline for the industrial sector established
An industrial sector plan for implementing NDCs has been validated and activities prioritized according to agreed criteria
Policy and regulatory frameworks are improved and related awareness and capacity building of stakeholders to implement these frameworks have been built
Capacity related to climate change mitigation practices in the area of industry is built
Pilot technologies and methodologies leading to improved energy efficiency and reduction in GHG emissions are tested to be then replicated
Under the "Accelerating Industries' Climate Response in Sri Lanka" project, NCPC, Sri Lanka is providing the services for delivering activities related to the ''Capacity related to climate change mitigation practices in the area of industry is built''.
This program consists of 02 major components as conducting ISO 50001 EnMS expert training and Energy System Optimization training– ESO training (Motor System Optimization (MSO)/ Steam System Optimization (SSO) training). The participants will receive sound knowledge, experience, and training through physical training, industry visits, awareness programs, webinars, MSO/SSO assessments, and energy reviews. Most experienced and renowned resource panel/ experts from the International organizations will share the new knowledge and their experience. This will make the individuals competent enough to manage energy use and conserve energy in their respective industry. A trained individual will also be able to offer sound advice that could make a difference within the company. The participants will be evaluated with a written exam during the course and a certificate will be issued upon successful completion of the course.
The EnMS Expert Training Programme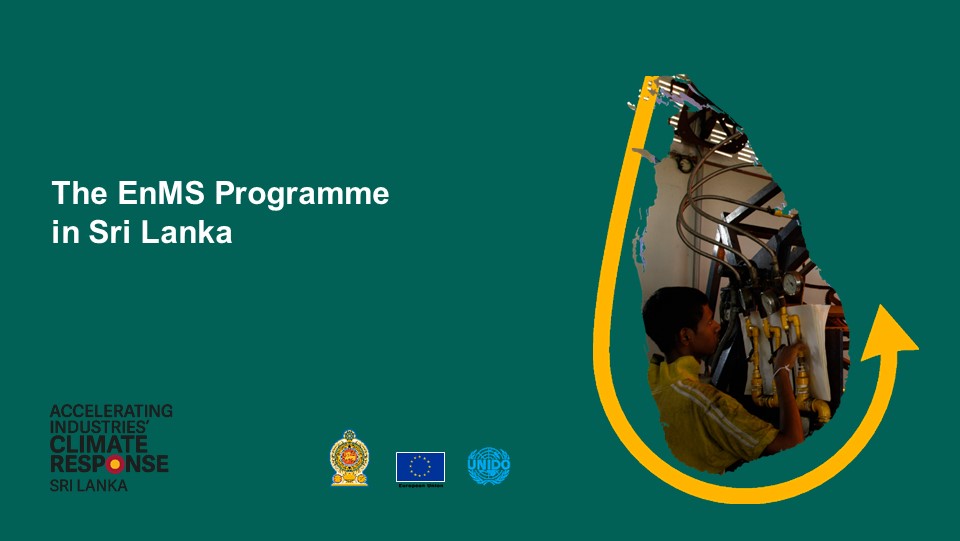 Why should people attend?
Personal and business skills development
Internationally accepted assessment methodology
Accredited qualification
What can participants expect?
Structured training programme
Combination of class room and mentored experiential learning
What is required of participants?
Interest in energy systems with appropriate background
Total of 12 class room days and approximately 14 site days spread over approximately 1 year
Dedication to complete programme
Criteria for eligibility – Consultants
Energy efficiency experts, consultants, energy system vendors, ESco representatives, academia and representatives from training institutions
Graduate of a Higher Educational Institution in Engineering or Science (NVQ level 7)
Minimum 5 years of experience in the industry and at least 2 years in an energy-related field
Working knowledge of any of the ISO family of standards (e.g. ISO 9001, ISO 14001, ISO 18001, ISO 50001, ISO 55001) is an advantage
An expression of interest to pursue a career in energy management ( ~22 Accredited Energy Auditors, ~ 250 Accredited Energy Managers, ~ 40 ESCos)
Initiate EnMS implementation in an industry within 12 months (commitment letter)
Criteria for eligibility – Industries
Participants will be selected from energy intensive manufacturing industries:
Metal (rolling, fabrication, metal finishing etc.)
Food and beverages
Rubber processing and products (tyres, gloves etc.)
Textile and apparel
Mining (tiles, porcelain, roofing tiles, cement etc.)
Consumer products
Paper and printing
Chemicals and paints
Polymer (packaging, plastic goods, PVC etc.)
Up to 50 participants from the selected 25 companies (2 participants per company)

For the initiation of the project, NCPC, Sri Lanka will be conducting two Virtual Awareness Session on EnMS implementation and Energy Systems Optimization. The first awareness session was be held on the 29th of August 2022 and over 50 industry leaders from Sri Lanka joined this awareness session. The second awareness session will be held on 6th September via MS Teams platform. To learn more about the project and its advantages, top management from the manufacturing industries are cordially invited to take part in this session.
To register, please follow the link below. Click here to Register
For more information do not hesitate to contact Ms.Nadeeshani Fernando, Project Officer on 076 3100467 or Ms.Shammi Hettiarachchi, Project coordinator on 076 3103011