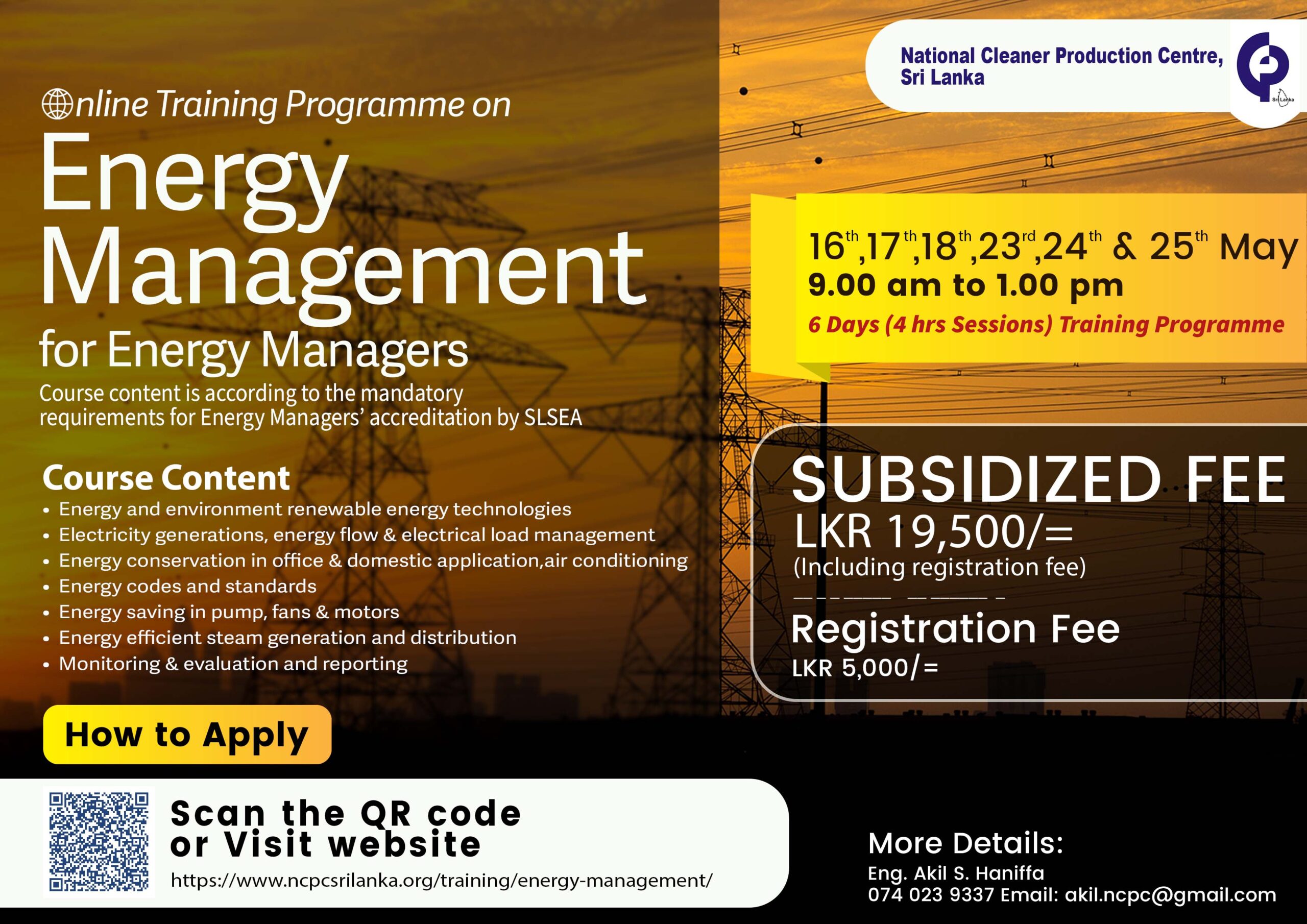 Background
Effective energy management is an essential tool in helping to reduce carbon emissions, improve efficiency and save money. And it is an aspect of all successful businesses. This training programme will make the individuals competent enough to manage energy use and conserve energy in the organization. Trained individual will also be able to advice others to adopt energy efficiency measures.
Sri Lanka Sustainable Energy Authority (SLSEA) has developed a guideline for Energy Manager accreditation where Energy Managers are accredited according to the Government Notifications No. 1715/12 which requires them to undergo 24 hrs of training as a part of the requirement.
National Cleaner Production Centre (NCPC) is an accredited Energy Service Company (ESCo) and accredited training provider under SLSEA on Energy Auditing and Energy Management. We have developed this training programme according to the requirements set by SLSEA for Energy Manager accreditation.
Objectives
The course objective of this training programme is to develop competent individuals who can manage energy use and conserve energy in the organization. A trained individual will also be able to offer sound advice that could make a difference.
Course Content
The most reputed panel of resource persons in Sri Lanka will deliver the lectures according to the standard curriculum of SLSEA.
Energy & environment renewable energy technologies
Electricity generations, energy flow & electricity load management
Energy conservation in office & domestic application, air conditioning
Energy codes & standards
Energy saving in pump, fans & motors
Energy efficient steam generation & distribution
Monitoring & evaluation and reporting
Dates, Venue and Fees
This six-days, 4-hour sessions (24 hours) programme consists of lectures provided by the island's leading engineers in the relevant fields. Due to the country's prevailing situation, we have decided that the most convenient way to conduct the training programme is in a virtual platform. These sessions will be held from the 16th to 18th & 23rd to 25th of May from 9 am to 1 pm.
A certificate will be issued after evaluation of participants during the course and participants who have successfully completed the course will be eligible to apply for Energy Manager accreditation from SLSEA.
The course fee will be LKR 19,500/= per person inclusive of all taxes. The participants have to register for the programme making the advanced payment and enrolment will be first come first served basis.
How to Apply
If you find this training programme is useful to train the personnel in your organization, kindly confirm your participation by sending the filled registration form Click here to download to akil@ncpcsrilanka.org or nadeeshani.ncpc@gmail.com.
Registration Form
For more information kindly contact Mr. Akil (Energy Engineer) – Mob: 074 023 9337 / Email:akil@ncpcsrilanka.org Ms. Nadeeshani (Programme Officer) – Mob: 076 3100 467 / Email: nadeeshani.ncpc@gmail.com