Certificate course on Corporate Environmental Sustainability
through Greening the Industries – 2023
Background
Greening industry is often perceived as an important process for the future health of our planet. It has emerged as a critical predictor of economic competitiveness and long-term growth. Greening industries also help to alleviate poverty by providing energy security, health and safety, and cost reduction through enhanced production.
Responding to the ongoing demand from the country's industry and business enterprises, the National Cleaner Production Centre (NCPC) intends to hold a certificate level Training course on Corporate Environmental Sustainability through Greening the Industries.
Aim of the Programme
To build the participant's capacity to lead the industry's greening process as the organization's environment/sustainability team.
To give sufficient expertise to advise the organization's management on green initiatives.
Programme
The Programme consists of an academic component which conducts as Class Room sessions with lectures & case studies and one site visit to a given industry.
Content of the Programme (10 Consecutive Fridays starting from 16th June 2023)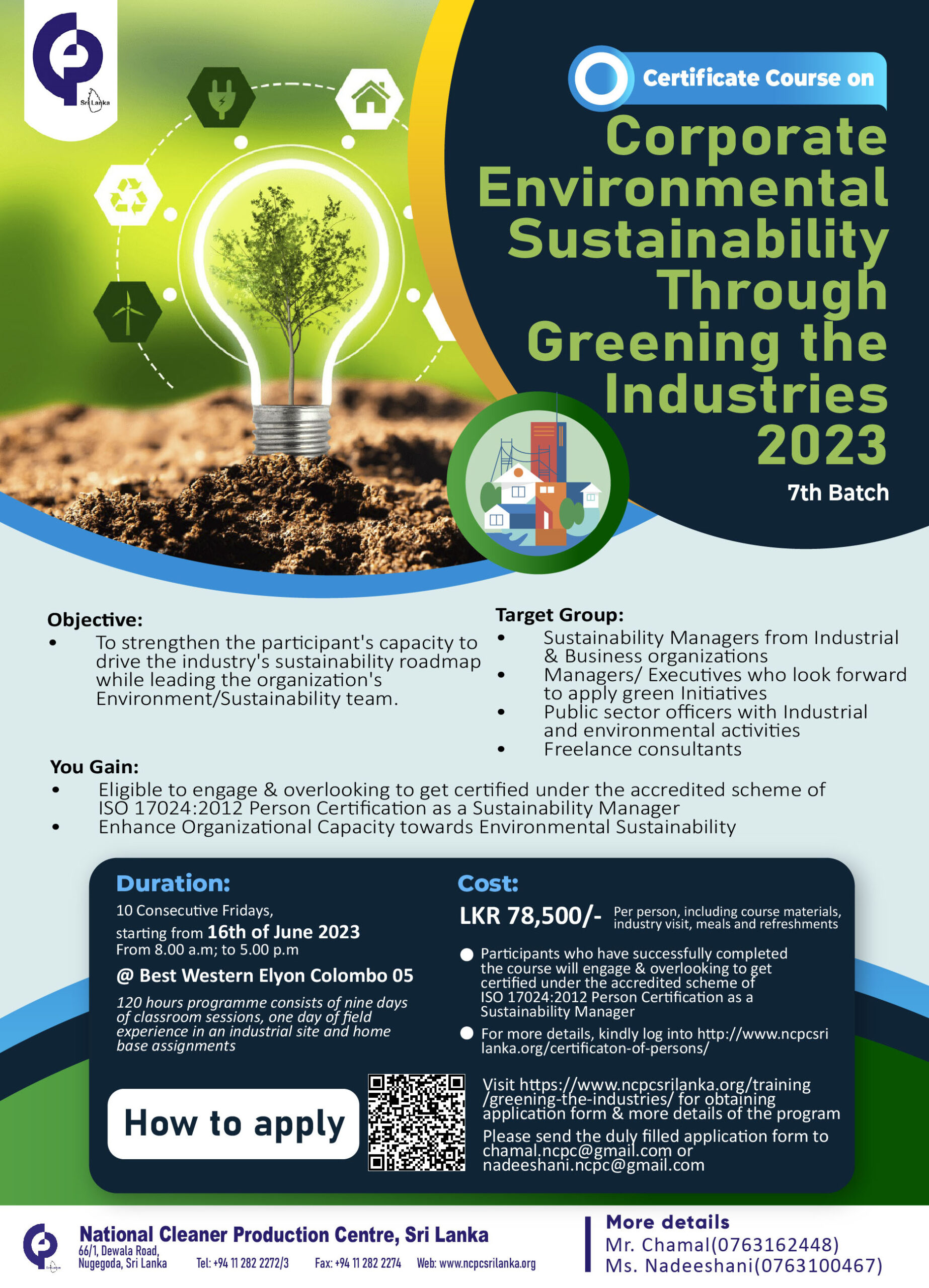 1. Concept evaluation of Greening of industries (a) Scientific and social aspects of current global environmental issues such as climate change, water stress etc. (b) International conventions on multilateral agreements for addressing global environmental issues Ex:- Stockholm Convention, RIO Summit, Johannesburg, RIO +10
2. Green industry Vs Greening the industry (a) Opportunities Presented by Greening of Industries (b) Attribute to a Green factory
3. Creating an enabling environment for Greening the industries (a) National Policy Framework (b) Policies at firm/industry level.
4. Baseline evaluation and gap analysis (a) Conducting Environmental assessments
5. Industry-led initiatives at the operational level (a) Concepts, Approaches, Tools and Techniques such as Cleaner Production, (b) Environmental Management Accounting etc.
6. Green environmental technologies (a) Sectoral approaches (b) Green Building
7. Bridging the gap-capacity building (a) Integrated Waste Management (b) Industrial symbiosis and eco-industrial park
8. Environmental reporting/Green reporting (a) GRI, NGRS, RECP indicators, performance monitoring, carbon footprint, water footprint (b) Environment & Energy Management Systems
9. Managing the social aspects through CSR
10. Barriers to Greening the industries and enabling measures
11. Global trends and best practices in Greening of industries
Practical Component The practical component of the programme consists of one-day site visit to the given industry.
Performance Evaluation Performance of the participants will be evaluated continuously with attendance and continuous assessments as an online training programme on chemical management, individual assignments and field assessment report.
Certificate A certificate will be awarded upon successful completion of the course.
Eligibility for person Certifications Scheme
NCPC, Sri Lanka operates an accredited scheme on ISO 17024: 2012, certification of person for sustainability managers. The primary goal of the scheme is to improve the credibility and recognition of individuals as consultants and certify against ISO/IEC 17024 criteria.
Certified Persons will be awarded with locally and internationally valid certificate and identity card after successful completion of the assessment process. http://www.ncpcsrilanka.org/certification-of-persons/
How to enroll?
Total fee
The subsidized fee for participation will be LKR. 78,500/= per person inclusive of course materials, industry visits, all meals and refreshments.
Application Form
Application forms can be downloaded by clicking the below link. The duly completed application form should be submitted to the NCPC, Sri Lanka office in Nugegoda, send by post or e-mail to Chamal Manage- chamal.ncpc@gmail.com. Application form- Click here to download
Upon submission of the application, the applicant will be evaluated for the ability of the applicant to successfully complete the programme. After the evaluation the applicant will be informed to register for the programme by paying the part amount of the course fee as the admission fee (i.e. LKR 10,000/=). Balance payment will be paid within the first 2 days of the training programme. However as only twenty-five (25) paid participants are enrolled for the programme, the seats will be reserved upon registration on "first come first served" basis. Hence the prospective participants are kindly requested to submit the Application form as early as possible and enroll without delay.
Details of the programme can be downloaded from below link or can be obtained by contacting the NCPC, Sri Lanka office.
Course Details- Click here to download