Training Programme on 'Consultant Development in ISO 50001:2018 Energy Management System (EnMS)'
Background
Energy is essential to life and all living organisms. Our energy choices and decisions impact Earth's natural systems in ways we may not be aware of, so it is essential that we choose our energy sources carefully and manage the consumption of energy in an optimal way.
An energy management system (EnMS) integrates energy management into existing business strategy, enabling organizations to better manage their energy, sustain achieved savings, and continuously improve energy performance.
EnMS has proven to be an effective strategy for industries to cost-effectively reduce energy use. ISO 50001 is not only a global best practice model for comprehensive and strategic energy management, but also serves as a global benchmark for climate and clean energy action. Energy management systems based on ISO 50001 best practices, or ISO 50001 certification are often key elements of energy efficiency policies around the world for large energy users, as well as small to medium enterprises.
Saved energy translates into reduced energy costs, increased productivity, enhanced energy security, and reduced greenhouse gas emissions.
Objectives
The course objective of this training programme is to develop competent ISO 50001 EnMS Consultants in Sri Lanka.
Course Content
Overview of ISO 50001 Energy Management Standard
Context of the organization & Leadership
Conducting an Energy Review
Operational Planning and Control, Design, Procurement and Performance Evaluation
Developing an Energy policy for the organization
Objectives energy targets and planning to achieve them
Resource, Communication, Competence & Awareness
Documented information of EnMS
Legal and other requirements of Energy Management Systems in Sri Lanka
Internal Audits, Nonconformity and Corrective Actions
Management Review of EnMS
Successful implementation of ISO 50001 EnMS in an Energy intensive industry
Dates, Venue and Fees
This five-days programme consists of four-days online sessions and one-day onsite Industrial Assessment. The online sessions will be held on 4th, 5th, 6th and 8th of August 2023 from 9.00 am to 4.00 pm via Zoom and a field visit will be held on 7th August 2023 to apply the learning outcomes. Hands-on experience will be given to the participants with sample templates, formats and worksheets.
A certificate will be issued after evaluation of participants and continuous assessment during the course and participants who have successfully completed the course will be eligible to enter the person certification scheme under ISO 17024:2021.
The course fee will be LKR 39,500/= per person inclusive of handouts and all meals. The participants have to register for the programme making the full payment and enrolment will be first come first served basis.
How to Enrol
If you find this training programme is useful to train the personnel in your organization, kindly confirm your participation by sending the filled registration form Click here to download to munsif@ncpcsrilanka.org or nadeeshani.ncpc@gmail.com.
Registration Form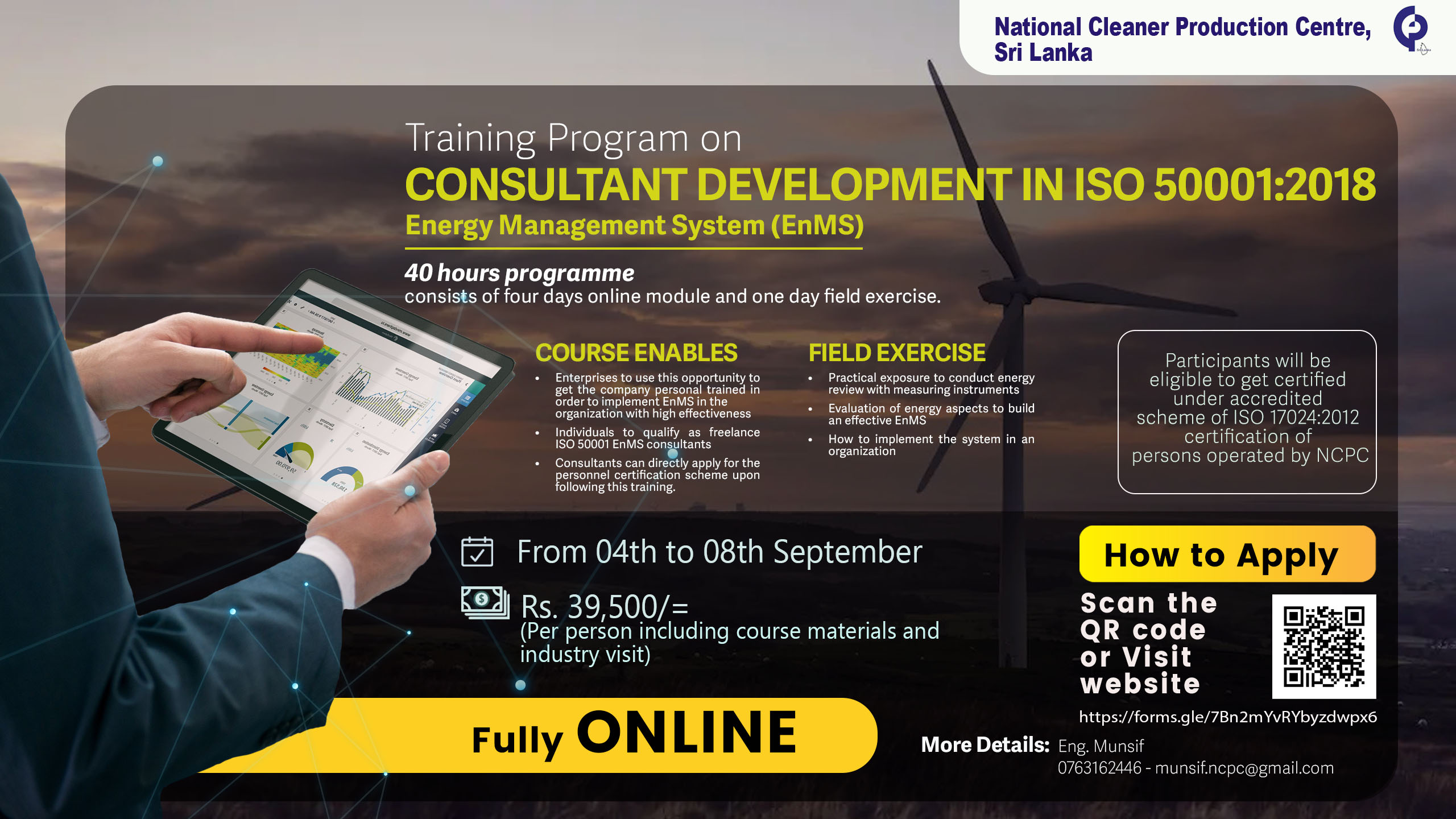 For more information kindly contact Mr. Munsif (Energy Engineer) – Mob: 076 316 2446 / Email:munsif@ncpcsrilanka.org Ms. Nadeeshani (Programme Officer) – Mob: 076 3100 467 / Email: nadeeshani.ncpc@gmail.com