Consultant Development in Environmental Management Systems Based on ISO 14001:2015 Standard
Under ISO/IEC 17024:2012 Person Certification Scheme
Why has the EMS become the need of hour?
Environmental management becomes necessary because of the impact created by human beings due to different activities. Today most organizations also consider environmental management a business necessity because it helps businesses be good stewards of their resources, which ultimately results in lower operating costs and minimize the pollution.
ISO 14001 is the most practiced tool in the world that sets out the criteria for an environmental management system (EMS) and can be certified. It maps out a framework that a company or organization can follow to set up an effective EMS. ISO 14001 is designed for any type of organization, regardless of its activity or sector, it can provide assurance to company management and employees as well as external stakeholders that environmental impact is being measured and improved. The latest standard ISO 14001:2015 responds to the newest trends, such as an increasing recognition by companies of the need to factor in both external and internal elements that influence their impact, including climate volatility.
Course details
This five-day (40 hours) programme consists of one-day online session (via Zoom), three-days classroom sessions and one-day onsite Industry Assessment. The classroom sessions will be held on 2nd to the 6th of October 2023 from 8.30 am to 5.00 pm. The online session will be held on the 2nd of October and classroom sessions will be held on the 3rd, 5th, and 6th of October 2023 at Plastics and Rubber Institute (PRI), Rajagiriya. The onsite industry assessment will be held on the 4th of October 2023. Hands-on experience in handling the sample templated and worksheets given will be included in the programme. And, this programme will be conducted in a hybrid model (you can either join live from anywhere you are or physically attend the classroom and get the experience).
The participants will be evaluated with continuous assessment during the course and certificate will be issued upon successful completion of the course. Those participants who have successfully completed the course will be eligible to get certified as EMS Consultant under the Scheme of ISO 17024:2012 Certification of Persons.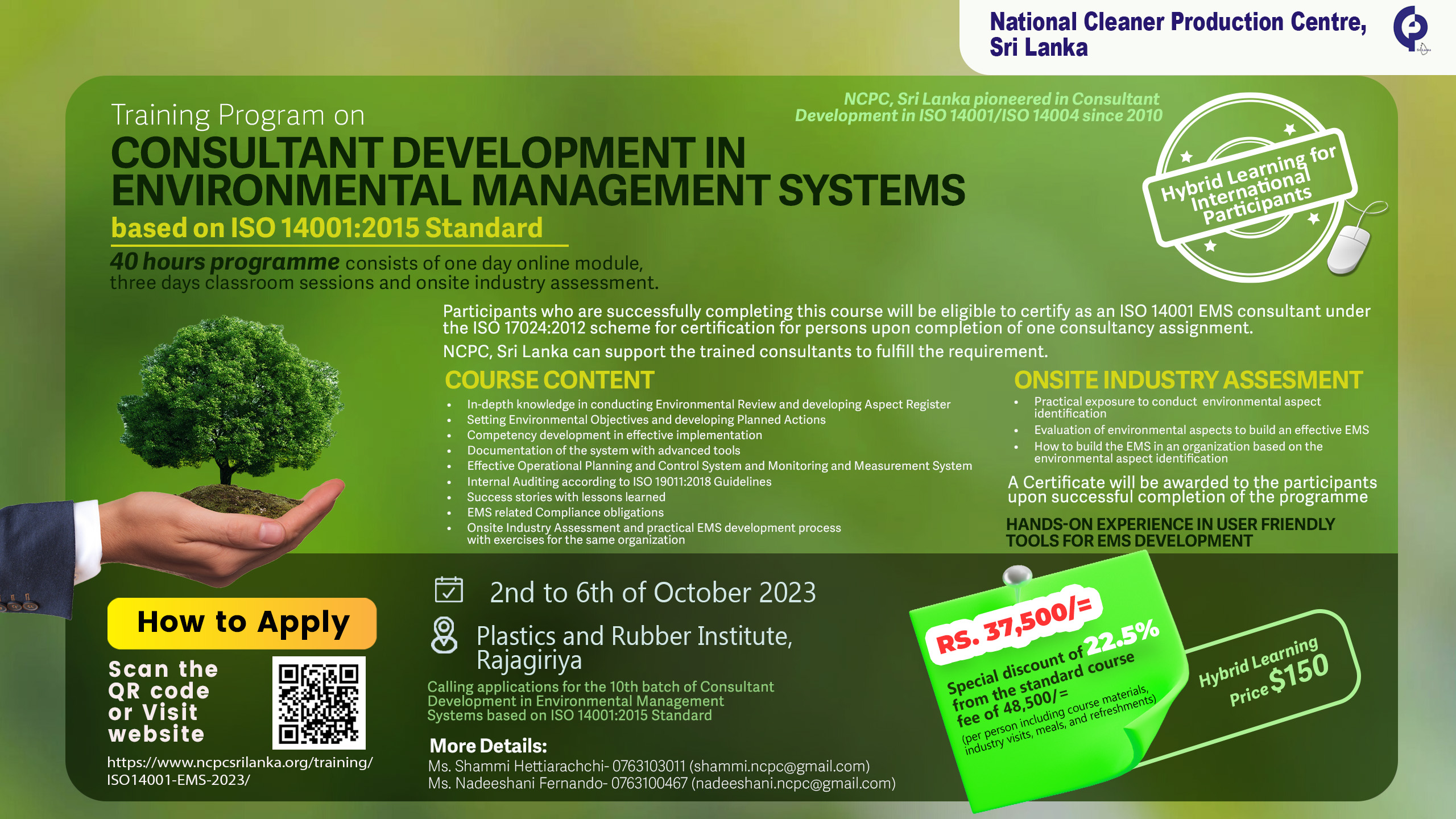 What you can gain
In-depth knowledge in conducting Environmental Review and developing Aspect Register
Setting Environmental Objectives and developing Planned Actions
Competency development in effective implementation
Documentation of the system with advanced tools
Effective Operational Planning and Control System and Monitoring and Measurement System
Internal Auditing according to ISO 19011:2018 Guidelines
Success stories with lessons learned
EMS related Compliance obligations
Onsite Industry Assessment and practical EMS development process with exercises for the same organization
Course fee and payments
The total cost fee will be Rs. 37,500/= per person inclusive of course materials, meals, refreshments during the classroom sessions, and travel & logistics for the onsite Industry Assessment.
The seat will be reserved for the participants upon payment of the course fee. However, participants can enroll in the course by paying a registration fee of Rs. 5000/=. Balance payment of Rs. 32,500/= can be paid on the first day of the programme at the participant registration desk. Total number of will be 25 and enrolment will be based on first come first served basis.
How to reserve your seat
Participants can apply by filling the application form attached. More details of this programme are given in the brochure annexed. Click here to fill the application
For more information
Contact Ms. Shammi Hettiarachchi, RECP Technologist; Tel- 0112822272/3, 0763103011 Email: shammi.ncpc@gmail.com or Ms. Nadeeshani Fernando, Programme Officer- 076310046 Email: nadeeshani.ncpc@gmail.com
Highlights from the last year