What is Eco Labelling?
Ecolabelling is a voluntary method of environmental performance certification, a labelling that is practiced around the world. An ecolabel identifies products or services proven to be environmentally preferable within a specific category.
Global Context of Ecolabelling
In more than 50 territories and countries around the world, independent, third-party tested ecolabels exist to ensure that the products and services purchase are certified to reduce environmental impact. The importance of eco-labelling achieved international consensus decades ago as part of the global push towards sustainable development. Ten years after the 1992 United Nations Conference on Environment and Development in Rio de Janeiro, the international community met at the World Summit on Sustainable Development, and re-affirmed its commitment to "Agenda 21" adopted in Rio. To do this, stakeholders agreed to the Johannesburg Plan of Implementation (JPOI) – to "accelerate the shift towards sustainable consumption and production." Crucially, the stakeholders to the JPOI identified the need to "develop and adopt, where appropriate, on a voluntary basis, effective, transparent, verifiable, non-misleading and non-discriminatory consumer information tools to provide information relating to sustainable consumption and production." Today, several types of environmental labelling exist – including those which are differentiated into groups and classified by the International Organization for Standardization.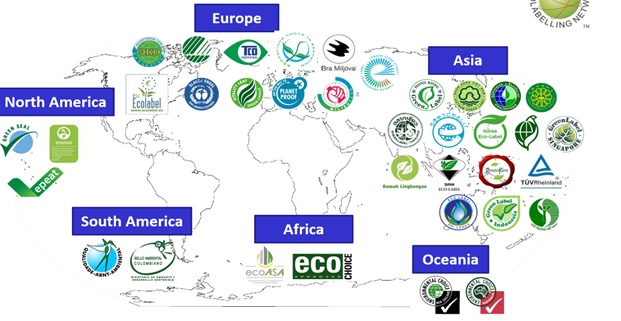 Type I labels are those often referred to as eco-labels, and identify overall environmental preference of a product (i.e. a good or service) within a product category based upon life cycle considerations. In contrast to a self-styled environmental symbol or claim statement developed by a manufacturer or service provider, an ecolabel is awarded by an impartial third party to products that meet environmental leadership criteria. They are also multi-criteria and multi-sectoral. Type II is a self-declared environmental label (often a single attribute, sometimes a company's own environmental logo). Finally, Type III is a product declaration that provides more detailed quantitative information of products. It takes the form of a matrix and is similar to declarations of the nutritional characteristics of products.
Importance of Eco Labelling
Ecolabel products and services are 'best-in-class' and are held to the strictest environmental standards that exist. They are proven to be environmentally preferable to all other kinds of products. That's because ecolabels are independently third-party tested to ensure that consumers are getting a product that is 'CERTIFIED GREEN' so they can trust in its environmental integrity. Using ecolabel products daily in household or at workplace creates a positive effect on green living and responsible consumption. Forest ecosystems are under intense pressure from rising population and its hunger for more land and resources. Therefore, the need to restore the forest resources are discussed and actions are taking place around the world. Restoring forest ecosystems involves returning trees to former forest land and improving the condition of degraded forests. It includes planting native and other tree species, including conserving wild plants and animals and protecting the soils and water sources that are part of the forest ecosystem. Also, much of the work of forest restoration focuses on bringing back natural processes that contribute to the forest's productivity, like soil and water interactions, streams, and plants.
Benefits of getting Eco-Label for products
Informing consumer choice – Eco-labelling is an effective way of informing customers about the human health and environmental impacts of selected products, and the choices they can make. It empowers people to discriminate between products that are harmful to the human and the environment.
Promoting economic efficiency – Eco-labelling is generally cheaper than regulatory controls. By empowering customers and manufacturers to make healthy and environmentally supportive decisions, the need for regulation is kept to a minimum. This is beneficial to both government and industry.
Stimulating market development – When customers choose eco-labelled products, which are healthy and environmentally friendly, they have a direct impact on supply and demand in the marketplace. This is a signal which guides the market towards greater environmental awareness.
Encouraging continuous improvement – A dynamic market for eco-labelled products encourages a corporate commitment to continuous environmental and social improvement.
Promoting certification – An environmental certification program is a seal of approval which shows that a product meets a eco-label standard/criteria. It provides customers with visible evidence of the product's desirability from an environmental and health perspective.
Assisting in monitoring – Environmental claims can be more easily monitored. Competitors and customers are in a better position to judge the validity of a claim.
To learn more on this, we invite you to join with our awareness programme on "Eco Labelling – Global Experiences" presented by Eco mark, Japan and Ecological Union, Russia on 15th June 2021 at 2.30 pm onwards.
Hear from Distinguish Speakers;
Dr. Yulia Gracheva, Director, Head of "Vitality Leaf", Ecological Union, Russia

Mr. Hiroyuki Kobayashi, Chief-Promotion, "Eco Mark", Environment Association, Japan.